ALL MEDICAL KITS ARE LATEX FREE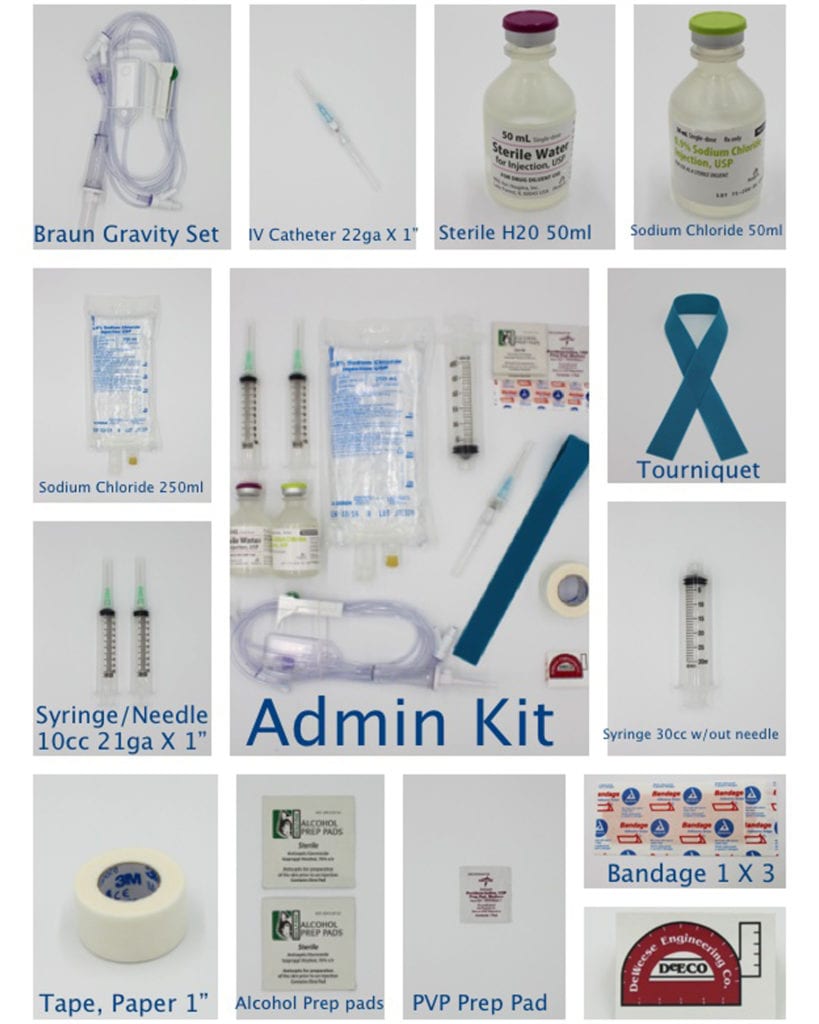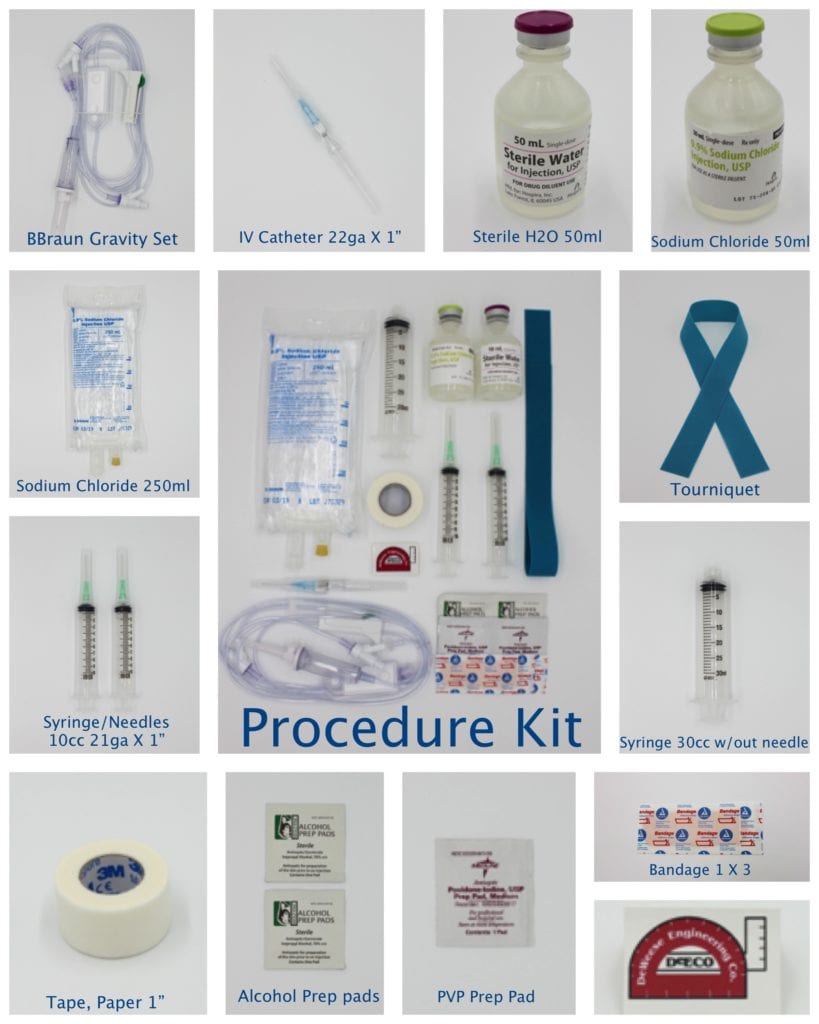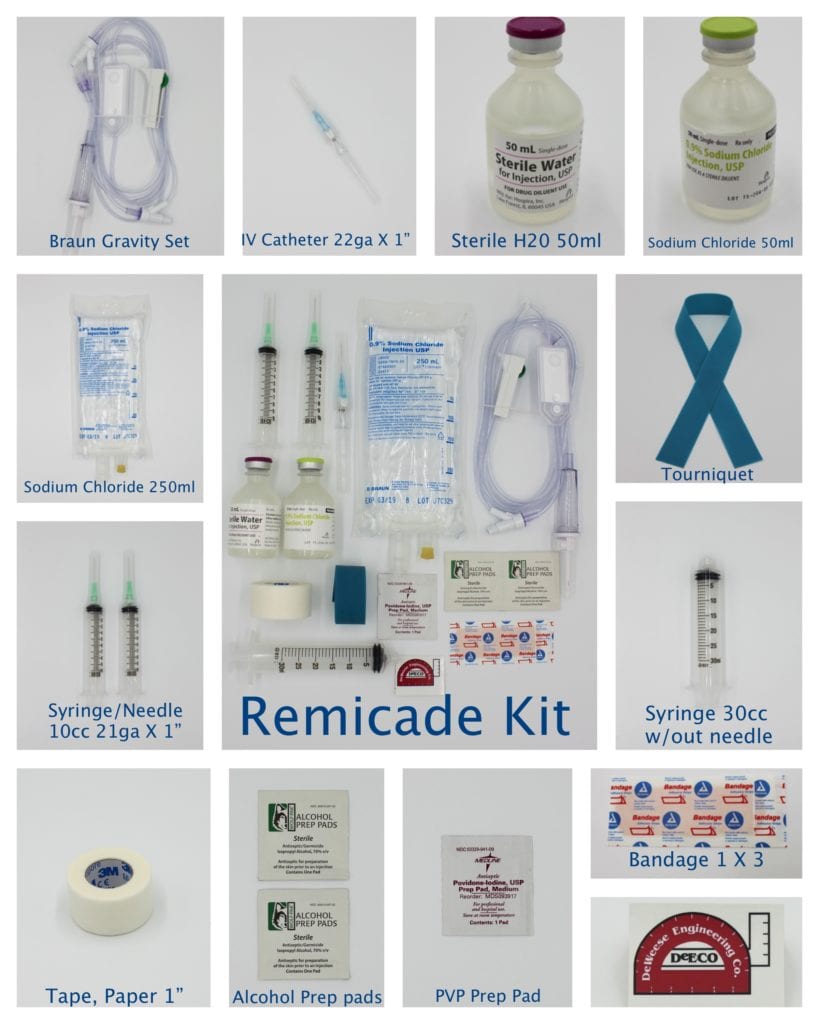 B Braun, Filtered IV, Administration Set, w/Universal Spike, Back Check Valve, Two ULTRASITE Injection Sites, Supor Membrane 0.2 pum Air Eliminating Filter, and Spin-Lock Connector. 15 Drops/mL, 104" long, Priming Volume 19mL (approx.) Reference 352437.
BD, Insyte Autoguard, 22GA 1.00IN, 0.9 X 25mm, 35ml/min, Shielded I.V. Catheter, Radiopaque, Nonpyrogenic, Sterile, Single Use Only. Reference 381423
Hospira/Pfizer 50mL, Single Dose, Sterile Water for Injection, USP. For Drug Diluent Use. Sterile, nonpyrogenic. Reference NDC 0409-4887-24
B Braun 0.9% Sodium Chloride, Injection USP, 250mL Excel Container, Each 100mL contains; Sodium Chloride USP 0.9 g; Water for injection USP qs, ph adjusted with HCI NF, Sterile Nonpyrogenic, Latex Free. Reference No. L8002.
Hospira/Pfizer 50mL, Single Dose,0.9% Sodium Chloride Injection, USP, Preservative Free. Each mL contains sodium chloride, 9mg. May contain HCIand/orNaOH for ph adjustment. Sterile, nonpyrogenic 0.308 m0smil/ml (calc). Reference NDC 0409-4888-06.
Cypress Medical Products, 18" X 1" Single Use, Textured, Latex Free Tourniuquet. Reference No. 63-34.
EXEL int. 10mL Disposable Syringe w/Needle, Latex Free Model 10ml Luer Lock Tip w/21G X 1", Non Toxic, Pyrogen Free, Single Use Only. Reference No. 26252.
BD 10ml Syringe, Luer-Lok, Tip with BD Precision Glide Needle, 21G X 1" (0.8mmx25mm) Sterile. Reference No. 309642.
BD 30mL Syringe w/out Needle,Luer Lok Tip. Latex Free, Reference No. 302832.
3M Micropore, Surgical Tape, 1"x10yd 2.5cmx9.1m, Latex Free, Hypoallergenic. Reference No. 1530-1.
Alcohol Prep Pad, 70% Isopropyl Alcohol, Anti-bacterial Action, an Antiseptic Skin Cleanser before injection, Four layer wrapper for air tight seal preventing leakage. Reference No. NDC 60913-007-02
Medline Antiseptic Povidone-Iodine, USP Prep Pad, Medium, Saturated with a 10% Povidone-Iodine solution, equivalent to 1% Iodine. Reference No. NDC 53329-941-09.
Dynarex Flexible1" X 3", (25mm X 76mm) Fabric Bandages, Latex Free, Sterile w/Non Stick Pad. Reference No. 3612.
Summary of Listed and Labeled items in Kit.
Deweese Engineering has been offering quality services in an area near you for years now! Get the best kits for the best price. When you shop with us. It's time you standardize your practice so that you will be known for what you do best and you will do it well every time.
How you benefit from a standard procedure pack program: